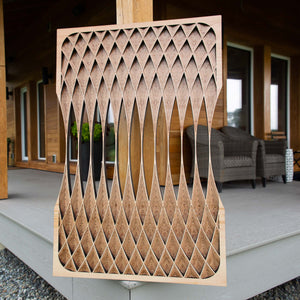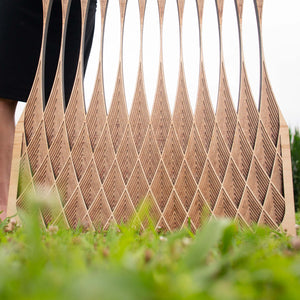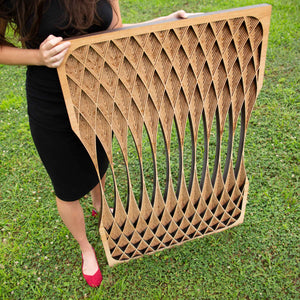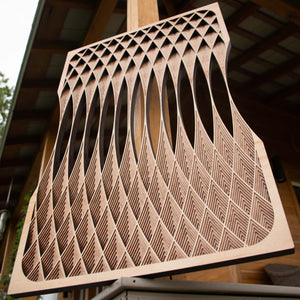 "Echo" ~47x31 (Limited Run of 1)
This listing is for Week 003 "Echo"
-Limited Run of 1
-Free Shipping for USA Orders
-Measures 47" by 31"
-Made up of 12 Layers, Mahogany Ply
-Comes ready to mount Vertically, no need to add your own mounting hardware
Designing with less intricacy is much more difficult for me than filling every last inch (same idea could be applied regarding how we fill our time).
"Week 003" is my fighting with the desire to always smush more into a space that is better left with less.  Looks so easy once finished. 
Weekly Challenge Project Summary:
Started July 3rd, 2020 - still ongoing.
Much like the 80 day design challenge (thanks to those who followed along), I want to continue to sharpen my design skills and speed.  During the 80 day challenge, I felt myself pining away for the day when I could design some larger work.  Now switching to the weekly format has felt wonderful.  The mini-art is fun but my personal satisfaction remains in the larger artwork.  This excise is still stretching for me as I struggle finishing artwork.  I can speed along for 95% but the last remaining 5% always pains me. These challenges of deadlines have helped tremendously.  Thanks for your continued patronage. 
Free Shipping for USA Orders. 
--------------------------------
Every piece is made in my little shop here in Southern NJ. Each piece is constructed from various plywoods, which means that each one turns out slightly different depending on the grain and how the wood accepts the stain. Most commonly Mahogany, Red Oak, and White Birch. The different layers are sometimes stained different colors in order to bring out the design's depth. It also adds more aesthetic texture to an already lively appearance. Note, the appearance will change throughout the day depending on the light.