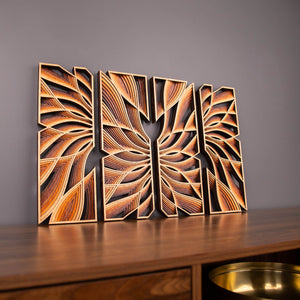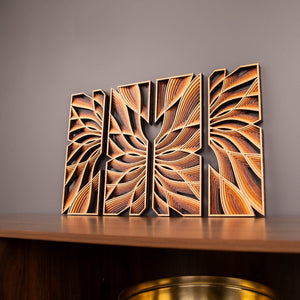 Flow | ~16x6 | Multiple Options
Free Shipping for USA Orders.
Single Panel Info:
Measures 15.5 by 5.5"
Made up of 8 layers
Comes ready to hang vertically or horizontally (actually all 4 ways!)
Pair (2) of Panels Info:
When placed together: ~15.5 x 12"
Quad (4) Panels Info:
When placed together: ~15.5 x 24"
For those looking for something a bit more contemporary and on the smaller side. So, I've found that my habit of "over-designing" has been strong recently. Meaning, adding too much detail when something doesn't need it. The extra fine details are where I love to be but this can sometimes make something that works, not work. I'm trying to pull back a bit and this project was a good workout for those muscles . The future is exciting as I try to blend a simpler aesthetic with pockets of crazy detail. Thanks!
Tour of Studio + How its made: Youtube Link 

Every piece is made in my little shop here in Southern NJ. Each piece is constructed from various plywoods, which means that each one turns out slightly different depending on the grain and how the wood accepts the stain. Most commonly Mahogany, Red Oak, and White Birch. The different layers are sometimes stained different colors in order to bring out the design's depth. It also adds more aesthetic texture to an already lively appearance. Note, the appearance will change throughout the day depending on the light.